26th of July, 2022
INTRODUCTION
The student's mentorship program was conducted on 26th July 2022 at Wandui Primary School. The overall objective of the program was to present to the boys and girls positive instructions and support during the adolescence transition years. In the life of each person there are common stages of physical, psychological, social and spiritual developments that one must go through. Many of these stages are difficult for an adolescent, as they require the person to change behaviors, attitudes, and ways of thinking, feeling and knowing to a more of developed stance.
OBJECTIVES
• The sessions main aim was to demonstrate an understanding of oneself in the context of the five dimensions of a human being;
• Socially
• Emotionally
• Physically
• Mentally
• Spiritually
• To understand and appreciate their physical bodies plus their male and female sexual anatomy
• To affirm the students that God made each part of the human body for a purpose therefore the whole body is well coordinated and it should be respected.
• To create awareness on drugs and alcohol abuse and their effect on human health, social life and the academic life of students
TRAINERS
1. Claire Huro – Facilitated Class 7 – 8 Girls
2. Monica Kithii – Facilitated Class 5 – 6 Girls
3. Raphael Wainaina – Facilitated Class 5 – 8 Boys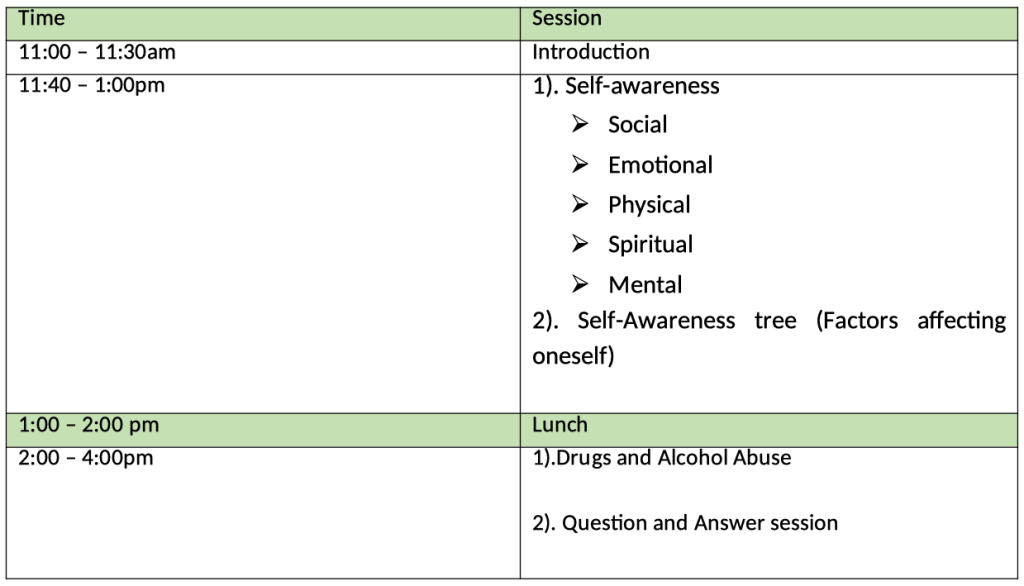 CHALLENGES EXPERIENCED
• Lack of accurate information concerning human sexuality and reproductive health issues (a lot of myths)
• Demonstration needed more time ,discussion and one on one personal contact wasn't possible due to time
• Over excitement of students in some topics thus lack of proper listening skills
• Students were embarrassed and failed to respond when their teachers were in class
SUMMARY OF EACH FACILITOR'S CLASS1.
CLASS 5 – 6 GIRLS
Social Media has a real impact on the girls
There is a lot of influence from there elder siblings and friends
They are highly affected by myths in sexuality topics2.
CLASS 7 – 8 GIRLS
• Sexual abuse questions were raised and how to cope with the violations
• Intimate relationship with the boys were part of the main queries and how to manage their emotions/feelings
• Menstruation and teenage pregnancy awareness topics need to be taught to encourage more informed sessions
• Menstrual sanitary products should be offered in school to those who cannot afford
3. CLASS 5 – 8 BOYS
• Boys felt neglected as girls are treated better and their needs prioritized more by the community
• Domestic violence especially from drunkard fathers is affecting the boys negatively and they have nowhere to report such cases
• Boys are being forced by older youths to engage in sex after circumcision as a "rite of passage" to adulthood. Others are often forced to start abusing drugs which they receive as gifts after undergoing circumcision
• The boys also noted they lack mentors or teachers who they can approach without being judged or their issues being used against them in future
• Excess home chores makes the boys fail to do their school work most times
RECOMMENDATION(S) FOR WAY FORWARD
• Teachers should be warm and more friendly to encourage students to approach them for personal issues
• Topic on Family conflicts and Inner healing should be conducted in future sessions
• During the sessions, the boy child felt listened to hence future programs should continue to involve them
• Drug awareness campaign should continue to be conducted to address effects on families and education
• The school can identify two or three teachers who will be in charge of girl/boys issues and counselling
• Creation of a safe space for further consultation on the personal issues.
CONCLUSION
In conclusion the training was successful and impactful to the students. We believe by the end of the training all objectives and expectations were achieved plus all goals realized. The team Looks forward to the next mentorship program.